On one of the cloudy days in Skye we slept in a lot and decided to have breakfast at Jan's in Dunvegan. No plans other than cream with cakes added.
We had no idea that the drive we went on afterwards would be so beautiful and we never thought we'd find the place where the dramatic Volvo advert was filmed a couple of years ago.
Cakes first, then the drive.
By the way, my purse is not packed with money. It's full of small change, store loyalty cards and receipts.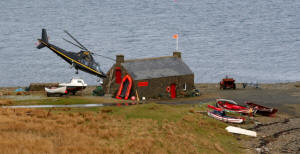 These two shots are from the TV commercial. Story was based on a stricken yacht, Volvo speeding towards the lifeboat hut.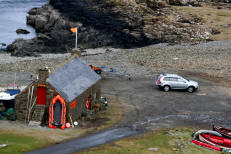 The car is the star: the Volvo XC90R.
The film had to be digitally enhanced later to make it look stormy as the day itself was quite sunny.
Surprisingly, the sun came out for mere moments when we were on the jetty checking out the water for swimming. I'd spoken to a diver earlier in the week who suggested Pooltiel (this bay) but we didn't realise at the time it was here at Meanish Bridge. We could have looked at a map but we were on holiday...
Then we were back to clouds.
But Skye is beautiful anyway.